JESÚS
Breaking Glass Pictures
Reviewed by: Harvey Karten, CompuServe Film d-based on Rotten Tomatoes
Grade: B
Director:  Fernando Guzzoni
Written by: Fernando Guzzoni
Cast:  Nicolás Durán, Alejandro Goic, Gastón Salgado, Sebastían Ayala, Esteban González
Screened at: Critics' link, NYC, 9/14/17
Opens: September 1, 2017 with September 19, 2017 DVD/VOD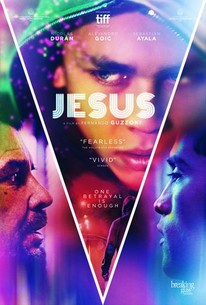 In the superb episodic TV drama "Homeland," a 16-year-old girl involved in a hit-run accident leading to the victim's death, feels so guilty that she wants to turn herself in to the police.  She is protected by her parents, who assure her that nothing can now be done to help the victim, so why waste your life in prison?  Quite a similar occurrence takes place in Fernando Guzzoni's "Jesús," wherein the title figure, involved with his friends in beating to near-death a drunk, vulnerable young man in a cemetery, is overwhelmed with guilt.  As in "Homeland," Jesús (Nicolás Durán) turns to his father for sympathy and help, but he and his dad, Hector (Alejandro Goic) have been estranged.  Hector, a widower, travels for his job, leaving the boy alone in the house, which the young man frequently leaves in a mess to the complaints of his dad.
"Jesús is a film by the Chilean writer-director Fernando Guzzoni, whose previous work "Dog Flesh" focuses on a solitary man who is crushed by his mysterious past. Guzzoni, then, is in his element in putting the 17-year-old Jesús in almost every frame, involving close-ups with hand-held cameras to project Jesús's psychological pain.  We can see that Hector, despite carping about the boy's aimlessness—the kid is not in school and does not work—genuinely cares for him but is clueless on how to connect.  This changes when the boy pleads with his dad for help.
Guzzoni paces the film in a way that might alienate those in a movie audience impatient with long takes such as the scene near the conclusion that finds Hector walking slowly and tearfully on the road and a similarly extended look at the Jesús's competition in a K-pop band, dancing in ways that could remind us of a similar, solo exhibition by John Travolta in "Saturday Night Fever."  You would think that the fellows doing their energetic steps would become too exhausted to commit the horrendous act that is the centerpiece of the film, showing how easy it is for gentle teasing of an unconscious lad to lead to the fierce beating.  Perhaps this is of a part with their interest in snuff movies, showing drug cartel torturous assassinations.
When the word gets out that Jesús is preparing to snitch to the police about the gang killing, he is threatened by his male lover, which raises the boy's anxiety to such a level that he is forced to go to his dad for help.  The sexual play between the two young men is virtually hard core as is the scene involving Jesús's sex with a girl.  The principal point made throughout is that Jesús has taken everything in his life with a cool indifference, projecting the aimlessness that has been his life until the group's beating of a boy brings him to tears.
If this were a detective story, it would be called noirish.  Everything is done in shades of gray, probably to accentuate the grayness of Jesús's life.  It is filmed by Uruguayan cinematographer Barbara Alvarez and takes place on location in Santiago Chile and the city's outskirts.  Santiago has apparently changed culturally since I was last there in 1970 before the Pinochet authoritarian regime put a damper on the country, and just as Spain now swings after the demise of a similarly authoritarian leader, Franco—when couples could not go on dates without chaperones—Chile has striven to become a major tourist destination.  If you are caught up by the frenetic dancing in one of Santiago's clubs, be sure to put the country on your to-visit lists.
Rated R.  83 minutes.  © Harvey Karten, Member, New York Film Critics Online
Comments, readers?  Agree? Disagree? Why?