​
​A QUIET PASSION
Music Box Films
Reviewed by: Harvey Karten, CompuServe Film d-based on Rotten Tomatoes
Grade: B+
Director:  Terence Davies
Written by: Terence Davies
Cast: Cynthia Nixon, Jennifer Ehle, Keith Carradine, Catherine Bailey, Jodhi May, Emma Bell, Duncan Duff, Noemie Schellens
Screened at: Review 2, NYC, 3/16/17
Opens: April 14, 2017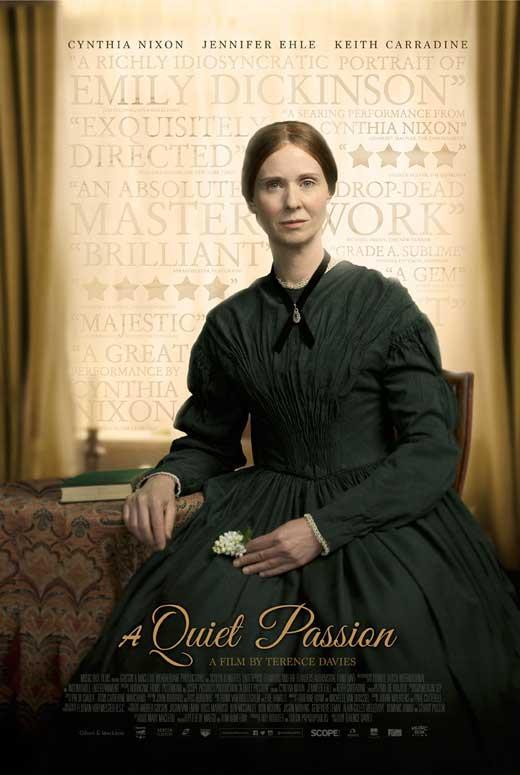 If you were asked to name 19th century poets without thinking, which ones would come to mind?  I would immediately answer Tennyson, Coleridge, Byron, Shelley, Keats, and the Brontës.  These are all British because, at least when I went to school, they were the ones most assigned in freshman English.  Though the U.S. has had its share of writers of verse, in the 19th Century, the two Americans who are considered to have given birth to our own poetic heritage are Walt Whitman and Emily Dickinson.  Both had lives that were interesting enough to elicit interest in memoirs.  Now, thanks to Terence Davies, whose "The House of Mirth" sixteen years ago depicts the life of a woman who risks losing a chance for happiness with the man she loves, takes on the life of Emily Dickinson—who felt unrequited love for only one (married) man and thereby spent a reclusive life in the family home in Amherst, Massachusetts.
Dickinson had the misfortune to see only a handful of her 1800 poems published, largely because of her unconventional style stressing quirky punctuation.  In fact, I'll wager that the one poem that many of us can recall offhand goes "Because I could not stop for death/He kindly stopped for me/The carriage held but just ourselves/and immortality."  Ms. Dickinson was obsessed with the same concepts that many other poets embrace; principally illness, death and immortality.
This is not to say that she entertained religious views about the afterlife.  We see that particularly in "A Quiet Passion," highlighting the poet's life from teen years to death at the age of fifty-six. As a young student (played by Emma Bell) at a Christian boarding school, she challenges the headmistress' certainties about God.  Happily, her father, Edward Dickinson (Keith Carradine), encourages her daughter's independence within limitations later observed, going along with her wish to submit her poems for publication.
The theme Davies most promotes encompasses a satiric look at the priggish morality of the times, giving us cause to recall our American History class lesson on the founding of our country by Puritans.  Years later—as Davies creatively illustrates the passage of time through a photographed instant aging of the family—Emily (now played by Cynthia Nixon) pursues a kinship with her sister Lavinia (Jennifer Ehle), her brother Austin (Duncan Duff), and her high-spirited friend Vryling Buffam (Catherine Bailey).  If we accept the broad outline of her life, Emily fell in love only once, with Reverend Charles Wadsworth (Eric Loren), whose wife Jane Locke Wadsworth (Simone Milsdouchter) affords us with the highest point of satire: when offered a drink, she refuses tea presumably on religious grounds, accepting a glass of cold water.
The only scene of violence is one depicting the tens of thousands of dead in the American Civil War, at Gettysburg, Antietam, and Spotsylvania.  If this were a longer movie, that would be the point that the audience would take an intermission.  The only time that Emily truly raises her voice into a loud passion takes place when she discovers her married brother making whoopee with the married Mabel Loomis Todd (Noemie Schellens).  One might wonder why a relative freethinker would go ballistic, considering that the two lovers were fully clothed in costumes that would have taken twenty minutes to shed.
Davies has no problem with long takes, particularly with death.  He shows us the demise of Emily and Lavinia's mother (Joanna Bacon), who is also named Emily, and a sensational depiction of the grand reaper's influence when the poet, shaking for several minutes in bed while surrounding by some family, passes on due in part to Bright's kidney disease.
Whatever you think of this highbrow biopic, one thing is clear.  Cynthia Nixon's name with be announced as a nominee by the Academy and by scores of awards groups including Golden Globes.  In her one, all-encompassing serious performance, one that would be the envy of Meryl Streep, Ms. Nixon disappears into the mind and body of Emily Dickinson.  Davies honors one of the two who gave birth to the great era of American poetry as few other writer-directors could, the film presumably yielding a renewed popularity in the works of the great writer whose life, however reclusive, is filled with the grand emotions of tragedy. Missing or passed through when Nixon recites some of the poetry off screen are those works that allude to death by crucifixion, drowning, hanging, suffocation, freezing, premature burial, shooting stabbing and guillotinage.  Imagine what a psychotherapist could do with this evidence.
Rated PG-13.  126 minutes.  © Harvey Karten, Member, New York Film Critics Online
Comments, readers?  Agree? Disagree? Why?