ABACUS: Small Enough to Jail
PBS Distribution
Reviewed by: Harvey Karten, CompuServe Film d-based on Rotten Tomatoes
Grade: B+
Director:  Steve James
Cast: Thomas Sung, Vera Sung, Jill Sung, Heather Sung, Hwei Lin Sung, Matt Taibbi, Cyrus Vance Jr.
Screened at: Review 2, NYC, 4/26/17
Opens: May 19, 2017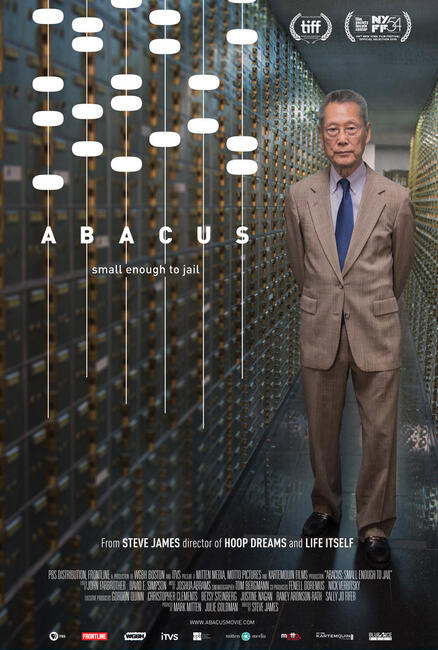 Early in April 2017, Dr. David Dao was flying home where he was needed urgently. The United Airlines flight was overbooked, and through misfeasance on the part of United, four people admitted to their seats on the airline were asked to vacate.  Only Dr. Dao refused.  He was violently dragged from the plane by police who were called by the airline and sustained injuries.  In our age of identity politics, you've got to ask: was it just a coincidence that an Asian-American was chosen to be the one passenger out of scores in their seats, or did the authorities think they would have an easy job with such a person, something that they'd never consider doing with an African-American passenger?  The same politics applies to a case that began years bank, during a time that the big banks and investment houses had given mortgage loans to people who could not possibly meet payments, given their financial status.  Foreclosures followed, an economic crisis loomed, and Chase, Citibank, Goldman Sachs and other giants were not only let off the hook but actually the recipients of a government bailout of over $700 billion.
Such was not the case with a Chinese-American bank, Abacus, a small affair in New York's Chinatown founded by a fellow who is now eighty years old and who claims that he founded the small bank to make business easier for their clientele than would one of the big guys.  His good will notwithstanding, he and his senior staff were prosecuted by Cyrus Vance Jr., the Manhattan District Attorney, on some 240 counts of felony and misdemeanor.  "Abacus: Small Enough to Jail" is the documentary which reimagines the case, reenacting the absurdity of the prosecution in an understandably biased way, i.e. for the most part facts favorable to the defense were utilized.

Specifically in May 2012 the Abacus bank and nineteen of its employees were prosecuted on fraud charges relating to hundreds of millions of dollars of mortgages sold to Fannie Mae between 2005 and 2010.  The D.A., who took an active role in the prosecution.  The principal defendant Thomas Sung, a lawyer born in Shanghai and known in New York for much pro bono service to Chinese-Americans, fired the one employee who, he admits, was guilty of fraud.  To further his case, Mr. Sung points out that the default rate of 0.3% was only one-tenth the national average.
Where is the evidence of  such potential felonies as selling sub-par mortgage loans to Fannie Mae with the hope of conning that body?  We can see why Steve James took the job of director of "Abacus," given his social conscience, as he directed such movies as "At the Death House Door"—about a prison chaplain who, after presiding at Texas executions came out against capital punishment.
One of the best aspects of the film "Abacus" is that while many people speak, some excited members of the Sung family speaking over others, James avoids questioning a bunch of talking heads sitting in chairs.  Archival film, of course, is shown, principally the blocks around New York's Chinatown with a few scenes in a restaurant seating the Sung family around a large table with an enviable supply of dark green vegetables and noodles.  A nice surprise as well are some clips from Frank Capra's classic 1946 movie "It's a Wonderful Life," with Jimmy Stewart in the role of George Bailey, who saves his town of New Bedford from the forces of greed.
Steve James has not made a movie to compete with Frank Capra's, but in subtle strokes and a booming victory party, we in the audience see that rare struggle that pits David against Goliath, and it would not be much of a spoiler to say that the bank's executive staff after some seventy days of trial and seven or so days of jury deliberations, were found not guilty.  Yet considering the heartaches, headaches, and ten million dollars that the not guilty charge entailed, this was somewhat of a Pyrrhic victory.
One may wonder how many people charged with misdemeanors or felonies plead guilty rather than face weeks, maybe months of litigation with the chance that though innocent, they may not be able to convince a jury.  If only ten percent of people charged with felonies demanded jury trials, the criminal justice system would come to a halt.  Kudos to Thomas Sung for showing that Chinese-Americans are not the passive group that they are stereotypically considered to be.
Unrated   88 minutes.  © Harvey Karten, Member, New York Film Critics Online
Comments, readers?  Agree? Disagree? Why?