THOROUGHBREDS
Focus Features
Reviewed by: Harvey Karten
Director:  Cory Finley
Screenwriter:  Cory Finley, adapted from his play
Cast:  Olivia Cooke, Anya Taylor-Joy, Anton Yelchin, Paul Sparks
Screened at: Review 1, NYC, 2/22/18
Opens: March 9, 2018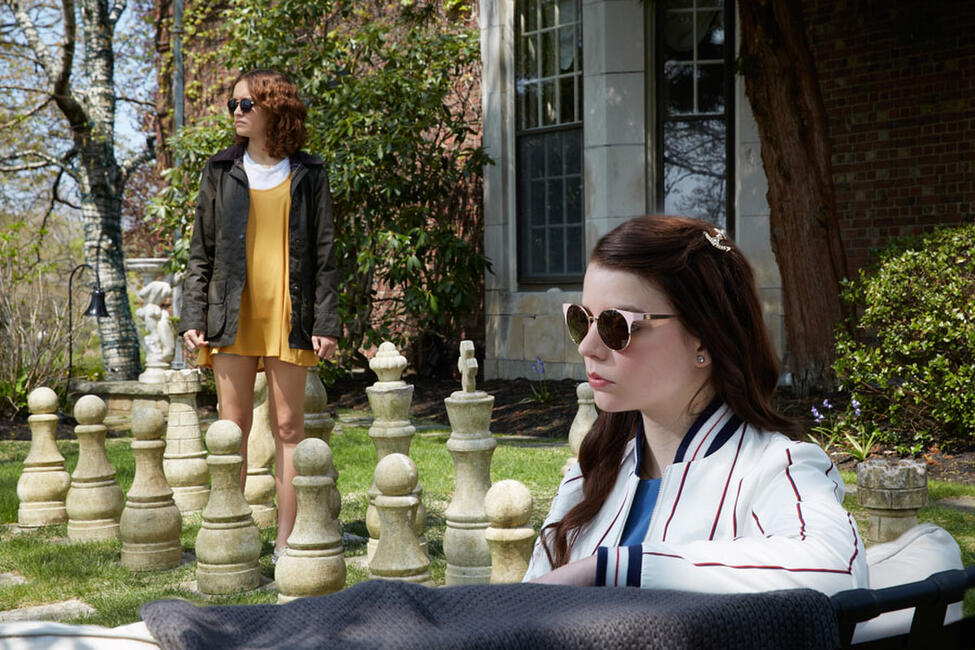 Proudly displaying its theatrical origins on the big screen, Cory Finley's "Thoroughbreds" is an intimate look at a flawed friendship between two emotionally disturbed high-school seniors, revealing how one criminally intentioned young woman can embed her mind-set on someone her own age.  This is the kind of cinema that could be equally effective on the legitimate stage, perhaps even more so given that dramas before a live audience tend to prioritize dialogue while subjects treated in a cinematic way emphasize visuals.
Though the movie takes place in the homes of two seventeen-year-old women, intricate camerawork and editing using shot-reverse-shot techniques to close in on first one speaker and then the next help to open the play for the big screen.  The plot depends on slowly building suspense, with Erik Friedlander's dissonant music augmenting the tension-filled effects.  Nor does it hurt that the acting by Olivia Cooke as Amanda and Anya Taylor-Joy as Lily is particularly strong, the rhythms of their dialogue approximating those found in many of David Mamet's plays.
Amanda is one emotionally troubled teen, a girl who has killed her horse after the latter's incurable paralysis in a scene reminiscent of Sidney Lumet's adaptation of Peter Shaffer's play "Equus." As Amanda's mother realizes that her daughter will have trouble making friends, she pays Lily ostensibly to act as her tutor for college boards, concerned with supplying Amanda someone to hang out with.
The movie's focus is on the almost musical dialogue of Amanda and Lily as they bounce viewpoints about, like the music of Bach's Passacaglia and Fugue in C-Minor.  It takes only moments for Amanda to spot Lily's hatred for her incredibly rich stepfather Mark (Paul Sparks), an overbearing man who treats his wife like royalty complete with spa treatments and the use of a suburban Connecticut mansion but has only disgust for Lily whom he wants out of his house.  They plot to have Tim (Anton Yelchin), a low-life convicted of statutory rape who works as a dishwasher in a nursing home shoot Mark and make the crime look like a robbery.  The give-and-take of the two girls with Tim is a gem in itself, displaying a man who is not too keen on doing the dirty deed despite the offer of $100,000.
As the plot moves forward from Chapter One through Chapter Four (the segments are displayed on the screen), the interest in ridding Lily of the hated man increases, brought to a fever pitch during a nasty argument with her stepfather.  However when the story should rise to a fever pitch, the tension, insufficiently reined in by director Finley, falls off during the final forty minutes, leading to an epilogue that should have been cathartic but is really anti-climactic.
This is a bold freshman venture by Cory Finley, a member of Youngblood, a collection of playwrights who are under the age of thirty.  Elements of the British playwright Harold Pinter come across, giving credibility to the writer-director's feeling that Pinter may have been the chief influence on his writing.  The drama is dedicated to the memory of "StarTrek" actorAnton Yeltchin,  who at age 27 died in a freakish accident when his Jeep Cherokee backed up on an incline crushing his lungs.
Rated R.  90 minutes.  © 2018 by Harvey Karten, Member, New York Film Critics Online
Story – B
Acting –  B+
Technical – B+
Overall – B