STRANGERS ON THE EARTH
First Run Features
Reviewed by: Harvey Karten
Director:  Tristan Cook
Screenwriter:  Tristan Cook
Cast:  Dane Johansen
Screened at: Critics' link, NYC, 3/8/18
Opens: May 4, 2018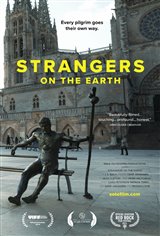 There are tourists and there are travelers.  Tourists go to places to sightsee and perhaps to engage in an activity that cannot be found  in your neighborhood.  Skiing in August? Portillo. Spring break?  Mexico. See Leonardo's work on a ceiling?  Vatican City.  Food?  Italy or France.  Preference?  No hardships.  Travelers, though, would have to include Anthony Bourdain, who doesn't go simply to a restaurant in Bologna or León but to the far reaches of the globe sampling street cuisine with the locals.
Yet it's difficult to think of travelers who put up with hardships as those who hike the Camino, the long stretch of land in Spain marked out by either the Church or the tourism department, with group tours available on caminoways.com.  The walk could be some 700 kilometers, maybe 700 miles.  The folks in this documentary film did not book tours but hiked on their own, and they're all ages, plugging along on the Camino with the destination of the tomb of St. James in Santiago de Compostela.  As you hike the trail, you realize that you're treading on land that hosted fellow pilgrims for hundreds of years.  You think a lot about life, and if you're like the people shown here, you don't spend your day texting with your Facebook friends.  There are many reasons for going, but the deepest thought is that you do the pilgrimage to perfect yourself, to become a different person.  However if you think you're stripping life to the bone like Thoreau, realize that you have to carry your belongings on your back like any of the crowd that drive to a campsite and consider their trip to be real traveling.  And you don't sleep under the light of the moon but in pensions, albergues each housing perhaps twenty people snoring, picking their calluses or their noses, and probably not smelling like people who use Dial soap "and don't you wish everybody did?" as the commercial stated way back.
The principal character speaking English to us in the theater audience is American Dane Johansen, who carries not only the typical pack with his raincoat and whatever, but adds a cello on his back.  As the producer of the film directed by Tristan Cook in his freshman entry into full-length filmmaking, Johansen anchors the doc with philosophic musings such as his view that there are seven dimensions to life (don't ask) but more important gives something back to fellow pilgrims and apparently to some of the locals who sit on portable chairs outdoors or inside in churches to listen to Johansen playing Bach by memory. The soundtrack carries the master's compositions (Bach's, not Johansen's) throughout the project.
There's not a lot of humor here, though its absence for the bulk of the work makes us in the audience appreciate a tale by a man who is traveling with a prospective soulmate that he meets on the Camino.  He is disgusted that she is charging her phone on his charger!  Imagine the chutzpah! Realizing that she may be too self-centered to be a pleasant walking companion he breaks up with her.  Over a charger!
Along the route we watch the passing scene under the lenses of photographer Iskra Valtcheva whom we never see but wonder how this camera person can carry luggage and perhaps the heavy equipment needed to bring the Camino to life—the donkey that one fellow uses to carry too much weight, the owls that turn 180 degrees, a large bird perhaps an eagle flapping wings while trying unsuccessfully to fly, the lambs (or goats) lying peacefully within a fenced area, a few cattle.
The loneliness of the long distance traveler is broken up now and then as the pilgrims gather in restaurants along the way, toasting one another, and urging on each traveler who, using the famous Spanish porrón, is able to chug some red wine without lips touching the bottle.  In the epilogue, some pilgrims end their trip in Finisterre, the westernmost tip of the European continent, where they burn articles of clothing to announce the beginning of a new life.
As you watch these people performing a feat in blistered feet, far more difficult than training for a marathon, you may feel exhausted yourself in your theater seat.  You will likely be motivated to catch other treatments of the pilgrimage.  There is a scene in this movie taken from "The Way," probably the most popular movie about the Camino, detailing the journey of Thomas Avery (Martin Sheen), starting with the death of Avery's son (Emilio Estevez).  "Walking the Camino: 6 Ways to Santiago" finds director Lydia B. Smith and crew beginning at St. John Pied de Port where they meet over 15 pilgrims for interviews.  Several reasons are given by the subjects for taking the stroll.  "Tres en el Camino" deals with one lonely Dutch man, a Japanese poet, and a Brazilian girl walking in different seasons, and how the experience changes them.  For the best scenery, check "Oh Ye of Little Faith."  "I'll Push You: A Journey of 500 Miles" released just last year checks in on Justin and Patrick, two friends who walk together.  When Justin is diagnosed with a neuromuscular disease that left him without the use of his arms and legs, he was confined to a wheelchair: Justin pushed him all along the route.  That's friendship.
Unrated.  96 minutes.  © 2018 by Harvey Karten, Member, New York Film Critics Online
Story – B
Acting –  B+
Technical – B+
Overall – B+