DEAR DICTATOR
Cinedigm
Reviewed by: Harvey Karten
Director: Lisa Addario, Joe Syracuse
Screenwriter:  Lisa Addario, Joe Syracuse
Cast:  Michael Caine, Katie Holmes, Odeya Rush, Jason Biggs, Seth Green, Fish Myrr, Jackson Beard
Screened at: Critics' link, NYC, 3/10/18
Opens: March 16, 2018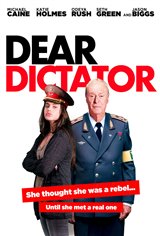 Whatever happened to satire with political undertones that are as smart as they are ruthless, that portray real characters in extremis but not as cartoons?  Think of "Dr. Strangelove," the more recent "Thank You for Smoking," and anything coming out of Monty Python?  With "Dear Dictator" a modern parody playing on figures like Fidel Castro and suburban moms and teens, the genre has sunk to its most unfunny low.  This is dumbed down with the most obvious gags, pure sitcom "entertainment"—with a portrayal of a dentist but with an overall story with no bite, no teeth, nothing to chew on.
Even Tatiana Mills (Odeya Rush), who has the gumption to send letters to a Caribbean dictator about to be ousted, projects herself as not a bimbo but a girl who is so uncoordinated that she falls to the ground twice.  And in a side role Denny (Jackson Beard) shows himself as the usual Hollywood portrayal of a religious nut, a Bible thumper, the kind of role that could make Evangelicals furious, except that he is so unconvincing that even folks in the reddest of states might tease out an uncomfortable laugh.
In the story Titiana has a single mother Darlene (Katie Holmes) is so horny that having her toes sucked by the dentist she works for, Dr. Charles Seaver (Seth Green) drives her into a sexual frenzy.  The high school girls gets the idea for a history project from her teacher Mr. Spines (Jason Biggs), fulfilling the assignment of writing a "letter to a person you admire."  Strangely, she admires a Caribbean communist dictator, General Anton Vincent (Michael Caine), who writes her back, even sending her a revolutionary flag. When he is overthrown, he somehow winds up hiding in the large suburban home of the person heretofore just a pen pal.  He shaves his beard, drops his revolutionary uniform, and puts on a ridiculous wig and mustache, eluding Titiana's mother for a while, playing miniature golf with the young woman, and learning about the Internet.
That's Michael Caine, taking a big slide down from his magnetic roles such as Harry Palmer in the 1965 "The Ipcress File," a performance which makes that movie stand as a masterwork of espionage fiction.  Now he's a bumbler who, in this story, tries to redeem himself by complimenting Tatiana and Darlene, giving them feminist-style messages that they're much better people than they think they are and telling them to "go for it."
The picture was first introduced with the title "Coup d'état," which could have been called "Coup d'éTatiana," but no name could have given this mess of physical comedy, dumbed-down script, been-there- done-that high-school parody worth a view.
Unrated.  90 minutes.  © 2018 by Harvey Karten, Member, New York Film Critics Online
Story – D
Acting – C+
Technical – B
Overall – C-