AVA
Grasshopper Film
Reviewed by: Harvey Karten
Director: Sadaf Foroughi
Screenwriter:  Sadaf Foroughi
Cast:  Mahour Jabbari, Bahar Nouhian, Leili Rashidi, Vahid Aghapour, Shayeste Sajadi, Sarah Alimardani, Houman Hoursan
Screened at: Critics' link, NYC, 4/20/18
Opens: April 27, 2018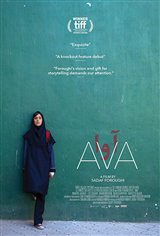 Watching this mother-from-hell berate her daughter reminds me of verses by the British poet and Oxford University graduate Philip Larkin (1922-1985):
"They f*** you up, your mum and dad/ They may not mean to, but they do.
They fill you with the faults they had/  And add some extra, just for you.
But they were f***d up in their turn/ By fools in old-style hats and coats,
Who half the time were soppy-stern/ And half at one another's throats.
Man hands on misery to man/ It deepens like a coastal shelf.
Get out as early as you can/ And don't have any kids yourself."
Never mind that the mother (Bahar Noohian) in this case is Iranian and that the setting in a conservative society helps provoke the woman to extremes.  Ava (Mahour Jabbari) is the sixteen-year-old whose own kids years later will likely be as screwed up as she.  Most important, what is happening to her could happen to teens anywhere in the world and quite often does.  There is some truth that many adolescents, despite being in the best physical condition in their lives, are a troubled mess.
Sadaf Foroughi, in her freshman job at directing and writing, has made an auspicious beginning, one which quite often in the field of filmmaking leads to even more mature works to come.  This is the kind of story that could be semi-autographical, so strong and unrelieved are the tensions created in Ava that we suspect that Foroughi has endured this pain herself.
The title character, Ava, comes from a solid middle-class home, a well-appointed house with clean, tiled bathroom and granite countertops.  She attends a school where the students appear likewise well off and studious.  She's a normal girl who may be shoved under a metaphoric bus thanks to her mother, a doctor, whose overreaction starts a spiral that her father (Vahid Aghapoor) may not ameliorate given that he's an architect and often not home.  The trouble begins when Ava's mom finds out that she has spent an hour in the park with Nima (Housman Hoursan), a young man who it unwittingly the target of a bet that Ava makes with her best friend Melody (Shayesteh Sajadi) that he will ask her out.  Her mother is frantic.  Alone with a boy for an hour!  She takes the girl to a gynecologist to confirm whether her daughter is a virgin.
Again: are there reasons for this overreaction?  It turns out that 17 years back, dad got mom pregnant. They married and apparently were not too pleased to have a child this early in their lives.  Mother is convinced that she has spooked her girl into acting like her, and this dovetails with the background of a conservative Muslim society.  It doesn't take long for teacher-parent conferences with the school principal-from hell, Ms. Dehkhoda (Leili Rashidi), who wears white gloves perhaps to symbolize her expectation that her charges will be virgins—and not doing crazy things like seeing a boy in the park for an hour without supervision.
The girls in the school all wear black veils albeit with the front of their hair showing while the boys are like teen boys everywhere, in this case wearing red sneakers. As in the U.S. the girls curse as much as the boys.  The focus is on Ava, an intense young woman with a growing anxiety and rebellion that prompts her to cut her hand (and this is the hand of a violinist) and deliver a monologue to counter her mother's own monologue in the film's most melodramatic scene.  American teens watching this film will identify—that is, if they don't mind reading the English subtitles while the performers speak Farsi.  (In English class, the girls throw spitballs at each other when the teacher's back is turned, which is not likely a reflection of hostility toward the English-speaking world.)
Quite an interesting first film by Foughi and likewise a suitably intense performance by Jabbari, on whom lenser Sina Kermanizadeh concentrates sometimes in sharp close-up and other times in soft focus.  Tehran is the location.  In Farsi, English subtitles.
Unrated.  103 minutes.  © 2018 by Harvey Karten, Member, New York Film Critics Online
Story – B
Acting – B+
Technical – B
Overall – B