DOUBTFUL
Rogovin Brothers
Reviewed by: Harvey Karten
Director: Eliran Elya
Screenwriter:  Eliran Elya
Cast:  Ran Danker. Yaakov Aderet, Osher Amara, Liron Ben-Shlush, Elroi Fass, Melodi Frank, Adar Hazazi Gersch, Shaley Girgin, Elad Hudara, Riki Hudara, Eli Menashe, Batel Moseri, Idan Naftali
Screened at: Critics' link, NYC, 5/28/18
Opens: June 3, 2018 at the Seattle International Film Festival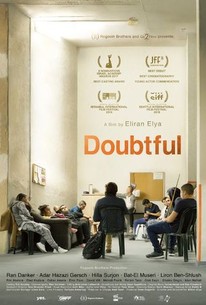 You might think that Israeli Jews have enough problems on their hands with Arabs inside Israel, in Gaza and in the West Bank; that they don't have the time or the inclination to fight among themselves.  This is a doubtful premise.  There is probably not a nation in the world whose people live together in a Shangi La location, and that includes North Korea though we in the West have no idea how those folks get along with one another.  Now Eliran Elva, who wrote the script and directs "Doubtful," uses the experience he has had with two shorts involving gunplay and the IDF, to give us his freshman full-length feature.  He gives us insight into the lives of people who are not the sort that you see in Israeli posters that show a solidarity of human beings unified by a common religion.  Instead his characters, eleven who are non-professional actors, play out a script about dysfunction in a small desert town in Beersheva.
The youths look like something out of "Blackboard Jungle" or "Precious," with Ran Danker in the role of Sidney Poitier  and the ineffective Bill Sage respectively.  In this case Danker's character, Assi, is himself an emotional wreck, sentenced to community service for drunk driving.  At one point he reminisces about his youth, about his failure to fit in, about being alone, playing alone, and now dealing with kids who are more scarred than he is.  His small class of students who in New York might fit into a special education class, are bored with everything except horsing around with each other, and who attend Assi's new film-making class as a condition of their parole.
Assi will ultimately gain control and respect in the manner of many a movie about teachers perhaps in part because they recognize in him the similarities with themselves.  Though the theme is not a new one, "Doubtful" bears a look from an audience that might consider their own wild ideas and actions when they were younger, seeing at least some part of themselves in the teenagers here.  And the young people do quite a professional job acting out their anxieties and later filming an episode with a student director who yells "cut" with enthusiasm.  In fact Assi takes a special interest in Eden (Adar Hazazi Gersch) whose mother invites the teacher to her abode for some home cooked meals, leading Eden to hope that Assi is in love with her and could become his stepfather.
This is based on a true story, one with a sad ending that involves one character who executed an act far worse that whatever got him into trouble here.  Eliran Elya directs with an appropriately blunt style, encouraging the physicality and even the charm of these roughneck teens.  His script allows a three-dimensional look at the thirty-three year old Assi with some naturalistic scenes including the journey by bus and train from Tel Aviv to Beersheba.
Unrated.  88 minutes.  © 2018 by Harvey Karten, Member, New York Film Critics Online
Story – B
Acting – B+
Technical – B
Overall – B