WON'T YOU BE MY NEIGHBOR?
Focus Features
Reviewed by: Harvey Karten
Director: Morgan Neville
Cast: Joanne Rogers, McColm Cephas Jr., François Scarborough Clemmons, Kailyn Davis, Yo-Yo Ma, Joe Negri, David Newell, Fred Rogers
Screened at: Dolby88, NYC, 5/10/18
Opens: June 8, 2018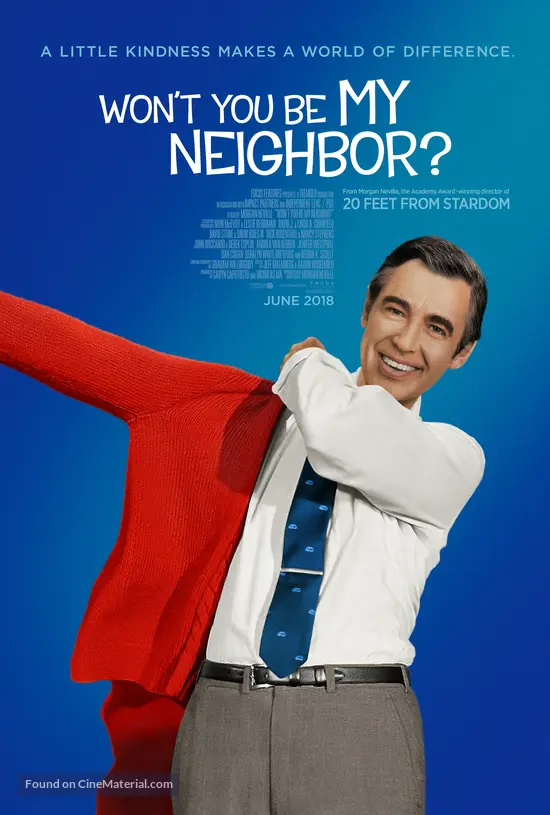 In a key point made by Fred Rogers during one of his 895 shows, the country's greatest friend of children asks the audience, "All of us have special ones who have helped you become who you are." And he meant business, waiting in silence until some came up with answers. How about you, dear reader? Who helped you become the person you are today? Mom? Dad? Grandpa who explains his COPD to his granddaughter? Batman? There's an implication here that not only might some of us be unable to name a single person for that award, though one would not be surprised to name Fred Rogers. In addition, are there any heroes out there, not Superman or Batman or Wonder Woman but a real hero: one who can connect with children, keep them awestruck, give them the feeling that life is good and that they are protected. And that would be Mr. Rogers. From 1968 through 2001 Fred Rogers taped his shows, always starting with the same motif, because presumably children, who often ask to see a movie twenty times, would appreciate the stability.
In "Mister Rogers' Neighborhood," Rogers would come home, open the door, and sing his theme song, "Won't You Be My Neighbor?", change into blue tennis sneakers, put on a cardigan sweater, though changing the colors, giving him a Jimmy Carter look. And in fact, like President Carter, Rogers placed a great value on religion–having attended a seminary with the thought of becoming a reverend. But he did not want to preach: he wanted to connect, and there's a difference. A trolley car would lurch forward, passing a castle, and focus largely on a puppet named King Friday XIII, who built a wall around his kingdom because he did not like change. Could Fred Rogers have forecast the present administration? He would bring the little guests up to the stage for interaction. And he would feed a tank of fish, taking care to lift a dead creature from the bottom of the tank to give it a proper burial.
Ironically he did not like television with its fast editing and especially despised cartoons featuring exploding heads, falling bodies of animals, and lots of noise. His aim was to help protect kids, and when you think about it, isn't that the most important job a parent has? But you cannot prevent young people from watching the fate of the Challenger and the assassination of Robert Kennedy (one puppet on the stage asks the meaning of the word "assassination" and got an honest answer). He did not shy away from talking about divorce, given the rising propensity of people to bolt whenever the dinner is not out on time, stating that sometimes two people prefer to live apart because they are not happy together.
He worried about shows depicting Superman, fearing that some kids might put on red capes, sport the big "S" on their shirts, and try to fly from buildings, as some actually did. For that, he gently warned his listeners that they should not try duplication as flying is a job for professionals. To counteract racism he would occasionally bath his feet in a basin of water, inviting a man of color to take off his shows and share the bowl—which he always did.
Once Eddie Murphy did a satirical sketch of the show, fortunately shown at night when protected kids would not be awake. Even more dangerous, Fox News lashed out at Rogers' repeated message that each child is special. "Does he mean that even if someone does nothing in his life, he or she is still special?" is what Fox more or less said, demonstrating the same kind of stupidity that they continue to spew at their audiences daily.
For Fred Rogers, the most important puppet was probably Daniel Tiger, his alter ego, a friendly creature who worried that he was a mistake, because he knows nobody else like him. This plays right into Rogers' ideology, telling children that the beauty of each individual is that everybody is like nobody else on the planet.
The documentary is huggable. It's a wonderful show that should leave the audience with good feelings, despite being thought too saccharine by some in the audience. Though Rogers meant to talked to the older folks, he was concerned almost totally with connecting with the small fry, a feat that he likely thought to be absent from all other TV programs. Kudos to PBS for continuing the show through the almost 900 episodes, the similarities among them not something to be criticized because, after all, kids feel protected when they can readily identify the entrances and exits, enjoying Rogers at the piano, even digging the man's slow and careful delivery and a singing voice that would hardly rival that of Pat Boone.
Talking heads pop up throughout, unanimously embracing everything that Rogers is doing for the children, including Joanne Rogers, McColm Cephas Jr., François Scarborough Clemmons, Kailyn Davis, Yo-Yo Ma, Joe Negri, and David Newell. Given the way Morgan Neville—who had contributed such fare as "Best of Enemies," a wholly adult pic pitting liberal Gore Vidal against conservative William Buckley—you may find it compelling that this director would be at home with both the headiest of intellectual debates and the magical, wonderful world of youngsters.
Unrated. 94 minutes. © 2018 by Harvey Karten, Member, New York Film Critics Online
Story – A-
Acting – B+
Technical – B+
Overall – A-