HEARTS BEAT LOUD
Gunpowder & Sky
Reviewed by: Harvey Karten
Director: Brett Haley
Screenwriter:  Brett Haley, Marc Basch
Cast:  Nick Offerman, Kiersey Clemons, Ted Danson, Toni Collette, Sasha Lane, Blythe Danner
Screened at: Review 1, NYC, 5/16/18
Opens: June 8, 2018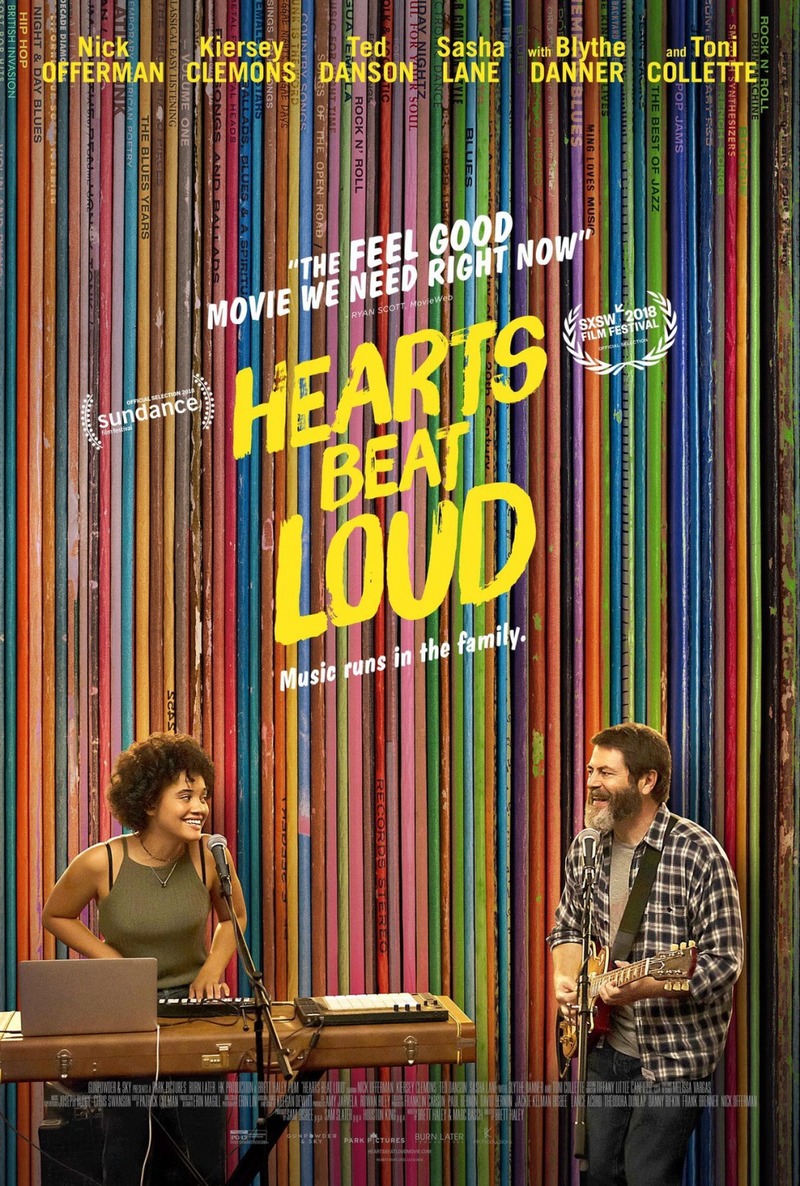 Young people about to head off to out-of-town colleges are naturally excited about the idea, though they may think they will become homesick missing the folks and local friends.  An equal reaction can be found in the parents who have been exposed to the anxieties of empty nest syndrome.  You might be surprised to know that marriages can break up when the kids are gone.  What's left to talk about when you're just husband and wife?  There's no wife in "Hearts Beat Loud," since the woman of the house had died eleven years before, and the bereaved husband, Frank (Nick Offerman), dreads what's coming–living alone under his roof.  He has been quite a satisfactory father to his one daughter, Sam (Kiersey Clemons), their bond remaining strong because they have an equal love for songs—he on the electric guitar and she with an angelic voice that can really hit the high registers.  But Frank is faced with losing his vinyl record store in Brooklyn's colorful Red Hook section at the same time that Sam is about to depart for UCLA.  With his friendly landlady Leslie (Toni Collette) insisting that she has been forced to raise his rent, he has no choice but to close down and wonder how he will meet his 18-year-old's tuition and other expenses when she is 3,000 miles away.
"Hearts Beat Loud" is a low-key coming of age drama, a musical, and at the same time a focus on Frank who goes so far as to ask his daughter to take a year off and work on playing together in a musical enterprise now that he has received a flurry of hits when he uploaded a new song to Spotify.  He thinks he can even carve out a living since, of all things, the song is on a playlist with Iron & Wine and Spoon.  Sam, a top student bound for a pre-med curriculum at UCLA,has a love interest, Rose (Sasha Lane), though not much more than kissing is shown on screen.  To relieve his worries, Frank stops often by Sunny's bar where Dave (Ted Danson) relives his "Cheer" days mixing drinks and serving as Frank's pal as well.
This is not the kind of musical you'd expect on Broadway.  It's no "Chicago" or the new version of "My Fair Lady," but it does have songs now and then, all with bouncy beats.  Still, aside from sweetness which is always in style when the tone is not down-and-out saccharine, there is not enough going from the plot, and we might have expected more to come from director Brett Haley, whose "I'll See You in My Dreams" about a widow and a songstress show that life can begin anew at any age and whose "The Hero" starring Sam Elliot about an ailing movie star confronting his mortality has more depth.  Blythe Danner shows up almost in cameo as a dotty grandmother to the budding young vocalist.
Rated PG-13.  97 minutes.  © 2018 by Harvey Karten, Member, New York Film Critics Online
Story –  C+
Acting –  B –
Technical – C+
Overall – C+