BOUNDARIES
Sony Pictures Classics
Reviewed by: Harvey Karten
Director: Shana Feste
Screenwriter:  Shana Feste
Cast:  Vera Farmiga, Christopher Plummer, Lewis McDougall, Bobby Cannavale, Kristen Schaal, Dolly Wells, Christopher Lloyd, Peter Fonda
Screened at: Sony, NYC, 6/6/18
Opens: June 22, 2018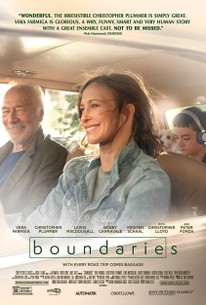 The characters in Shana Feste's "Boundaries" give you the feeling that the worst thing that can happen to a person is to not fit in.  This applies to a Henry (Lewis MacDougall), who is expelled from high school for drawing nude picture, particularly one of his principal; to Laura Jaconi (Vera Farmiga), a single mother who cannot adapt to her father's behavior or to her ex-husband's; to Jack Jaconi (Christopher Plummer), who is too creative and independent and even criminal-minded to fit in with his nursing home and has been expelled from there.  (Why would he need a nursing home, anyway)? The three people go on a road trip not necessarily with the goal of becoming buddies, but wouldn't you know that's exactly what happens?  This means that "Boundaries" is not an original, but is rather a conventional family tale, but what performances!  Vera Farmiga and Christopher Plummer have the spotlight, though what they have to say to each other per Shana Feste's script, is not extraordinary, but it's how they say it that makes "Boundaries" a movie that should be seen.
Jack, then, is not a typical father or grandpa.  He is released from his nursing home after several infractions and at the age of 85 (Plummer is 88 making him the oldest actor to get an Oscar nomination), and after trying to call his daughter Laura without success shows up at Laura's home.  Though he was too selfish to stay around to get to know his grandson Henry, he is such a charmer that Laura cannot resist driving him to a future home.  Grandson and daughter discover that he is a drug dealer with a marijuana stash worth $200,000.  He accompanies his family on a drive from Portland to L.A. with a plan to drop Jack at the home of his other daughter JoJo (Kriste Schaal), and on the way do what people do in road-and-buddy movies.  They see people, all goofy individuals, including Laura's ex-husband Leonard (Bobby Cannavale), Jack's buddies Stanley (Christopher Lloyd) and Joey (Peter Fonda), the latter being Jack's rich buyer of weed.
Writer-director Shana Feste is in her métier, having made films like "The Greatest" (a troubled teen girl) and "Endless Love" (parents try to break up a love between their privileged daughter and her new boyfriend). For his part, Christopher Plummer, fresh from his role as J. Paul Getty in Ridley Scott's "All the Money in the World" as a billionaire too selfish to pay a ransom for his grandson, modifies that narcissism here by being simply a guy who did not hang around to see to his daughter's upbringing.
A bunch of neurotics, one and all, make "Boundaries" a film that would probably be too unconventional to be labeled a sit-com and of value especially to a potential audience that is unaware of just how terrific Vera Farmiga can be. Sara Mishara shot the film in scenic British Columbia.
Rated R.  104 minutes.  © 2018 by Harvey Karten, Member, New York Film Critics Online
Story – B-
Acting – A-
Technical – B
Overall – B