SHOCK AND AWE
Vertical Entertainment & Direct TV
Reviewed by: Harvey Karten
Director:  Rob Reiner
Screenwriter:  Joey Hartstone
Cast:  Woody Harrelson, James Marsden, Rob Reiner, Milla Jovovich, Jessica Biel Tommy Lee Jones, Luke Tennie
Screened at: Critics' link, NYC 6/29/18
Opens: July 13, 2018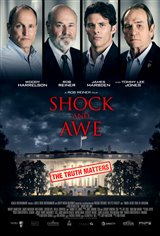 Our President lies so many times that each successive perseveration has little impact.  Psychologists say that when you say anything that comes to your head, you yourself will probably not realize that you are lying.  However sometimes a single lie is such a blooper, has so much significance, that it reshapes the world.  That lie came from President Bush, although you could say that he believed a lie told by Ahmed Chalabi, an Iraqi defector who hoped to become his country's next leader.  That was that Saddam Hussein, the president of Iraq whom the U.S. supported when that Middle Eastern country fought against Iran who now has weapons of mass destruction, or WMD's that he might use against the United States.  Saddam was allegedly working on developing nuclear bombs and that he had, hidden somewhere, chemical and biological weapons that could havoc in the U.S.
Some people believe that Bush had an ulterior motive for attacking Iraq shortly after two planes deliberately crashed into the World Trade Center in New York on Sept. 11, 2001.  Bush's father, according to the rumor, was being targeted for assassination by Saddam and Dubya, i.e. George W. Bush (as opposed to his father George Herbert Walker Bush) was out for revenge.  Only Bush 43 knows the real reason for going to war in Iraq, a conflict which resulted in 36,000 American deaths and injuries and over one million deaths and injuries in Iraq.
Along comes a newspaper, actually a consortium of newspapers under the Knight Ridder label, the only major media to contradict even the New York Times.  The paper of record goofed by going along with Bush and advocating for military action.  But Knight Ridder did not believe that Saddam had WMD's, its staff members given death threats for unpatriotic actions, specifically because that paper stood alone in telling the truth.  "Shock and Awe" is based on Knight Ridder's thorough investigation leading to its big, bold dissent.
However Rob Reiner, who directed and has a principal role, gives us a "War 101" study which however well-meaning is so elementary and so lacking the tension that we experienced with movies like "A Few Good Men" and even the more recent "The Post,"
that journalism students may be bored and so might anyone who had been following U.S. war games for decades, though it could be a primer for people who have even less interest in foreign policy than I have in Major League baseball.
Reiner uses archival films starring higher-ups in government like Defense Secretary Donald Rumsfeld ("there are unknown unknowns – the ones we don't know we don't know'), Secretary of State Condoleezza Rice, Assistant Defense Secretary Paul Wolfowitz, President George W. Bush, and featuring a dramatized Ahmed Chalabi.  The major players though are the reporters with Knight Ridder with 32 newspapers throughout the U.S.  As heroes in the struggle for truth, reporter Jonathan Landay is played by Woody Harrelson, James Marsden in the role of Warren Strobel, and Rob Reiner sits in for editor John Walcott, the man who hires Joe Galloway (Tommy Lee Jones), a war correspondent, for confirmation.  The thing about syndicates in America is that not every subsidiary is bound to follow the leader, and in fact The Philadelphia Inquirer refused to join the Knight Ridder people in publishing their scoops.
Moments of tension are dramatized but not followed up.  During one evening as Landay and his wife Vladka (Milla Jovovich) prepare to cuddle, she breaks the mood by arguing with her husband insisting that his investigation will endanger the family (we see one example of a death threat taken against the reporters by Internet trolls). Nothing comes of that. In the movie's one romantic thread, Warren Strobel and Lisa (Jessica Biel) go on a date in which she lectures the handsome but awkward gent about Middle Eastern politics that leaves him awed, but any intelligent middle school person studying politics at all would consider her information elementary.
The film's sentimental and heartbreaking scene finds Adam (Luke Tennie) opening the movie by testifying about the Iraq War with a congressional committee, and in fact we see the explosion that severed his spinal cord in his very first day in Iraq and left him in a wheelchair.  The film's script comes from Joey Hartstone, known for the more intelligent and less schmaltzy "LBJ"
Rated R.  90 minutes.  © 2018 by Harvey Karten, Member, New York Film Critics Online
Story – C+
Acting – B-
Technical – B-
Overall – C+