MAMMA MIA! HERE WE GO AGAIN
Universal Pictures
Reviewed by: Harvey Karten
Director: Ol Parker
Screenwriter: Ol Parker, Richard Curtis from a story by Ol Parker, Richard Curtis, Catherine Johnson
Cast: Lily James, Amanda Seyfried, Meryl Streep, Dominic Cooper, Cher, Christine Baranski, Pierce Brosnan, Colin Firth, Andy Garcia, Stellan Skarsgård
Screened at: AMC Empire, NYC, 7/16/18
Opens: July 20, 2018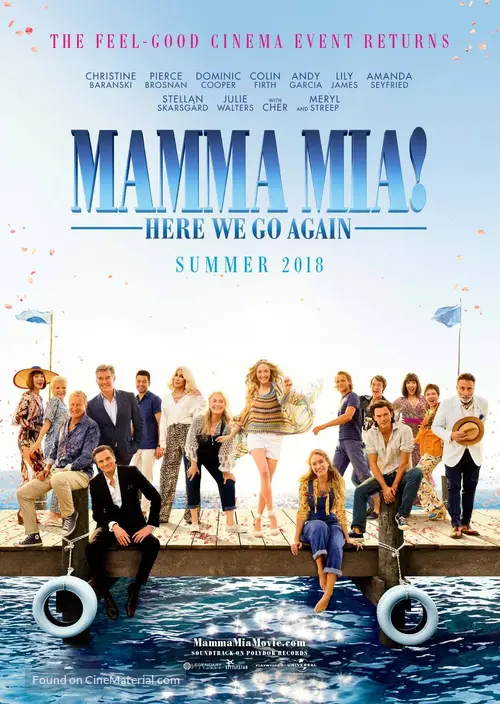 Man it's hot! What are you going to do about it? You'll go to Coney Island beach and look forward to your Nathan's hot dog and fries? You don't mind water that's polluted, with plastic bags on the beach and not much to do with your time but read "The President is Missing"? Maybe you'd be better off on a Greek island; water clear as crystal, pristine white sands, snacking on Yiaourti me meli and Ekmek kataifi! And you won't be reading a thick book but would instead be dancing like there's no tomorrow, and given the present administration in Washington, fill in the blanks. "Mamma Mia! Here We Go Again," a follow-up to the 2008 musical which began as a stage play in 1999, was filmed in Vis, Croatia, where Croatians and foreign travelers might ferry when they get tired of the commercialism of Split and Dubrovnik, also in Croatia.
In the story, the folks—mostly young, handsome and energetic with a few past their prime similarly energetic—are on the (fictitious) Greek island of Kalokairi. Sophie (Amanda Seyfried) is pregnant via her relationship with Sky (Dominic Cooper). She can't stop thinking of her departed mother Donna (Meryl Streep) and vows to run the hotel as she would have wanted her to. She will learn more about her mother from Tanya (Christine Baranski) and Rosie (Julie Walters), particularly about how she had three dads Sam (Pierce Brosnan), Bill (Stellan Skarsgård) and Harry (Colin Firth), all of whom seem deliberately to avoid DNA tests because they love to be together with one another and with the youthful Sophie.
The movie is a mess but a delightful one, full of dancing and singing, a joyful reminder that as Donna (Lily James) notes, life is short. The movie is loaded with ABBA songs, eighteen of 'em, a few slow and mournful but the bulk rousing and accompanied by superbly choreographed dancing—and I don't mean tangos, fox trots and what passes for Terpsichore at weddings and bar mitzvahs, but Dionysian revelry that might make moviegoers wonder why they too seem to know intellectually that life is short but are unable or unwilling to act upon it.
Some scenes are standouts, particularly the opening, which zooms in on a college graduation that you wish you had instead of the one you attended to find out that life's conquests await you. As Donna gives her valedictory address, she flings off her cap and gown ushering in the first sign that this movie is campy. The graduates join her and even the prune-looking vice chancellor (Celia Imrie) joins in. Later you watch the customers in a bar get up and dance, throwing down the tables, climbing on the bar, you know what's in store for the rest of the action.
The songs from ABBA's repertory are highlighted by the 1975 "Mamma Mia" sung originally by Donna and the Dynamos, and the whole cast join in with "Super Trouper"—Ruby, Donna, Rosie, Tanya, Sophie, Sky, Sam Bill, Harry, Fernando, Donna, Rosie, Tanya, Bill Sam and Harry.
If you've gone to musicals for a long time, you're probably agreeing that they don't make 'em like they used to, which is why Broadway has endless recreations of "My Fair Lady," "South Pacific" and "The Music Man." These are musicals with stories to tell, morals to provide, all realistic within their fantasy. While "Mamma Mia! Here We Go Again" has no real purpose other than the fragile one about a young woman's wanting to honor her departed mother's dream of continuing the island hotel, it's a lot of fun. And for that—to quote Senator Rand Paul's statement on July 16th about Trump's appearance with Putin in Helsinki—you've got to cut [him] some slack.
Lily James takes on the starring roll—as her character Donna would say based on her three one-night stands with different hunks—with passion. She is beautiful as well, which helps if you're a star in a musical, and has emerged from roles like "Cinderella," but this latest movie has little in common with her starring act in "The Guernsey Literary and Potato Peel Pie Society" (A writer forms an unexpected bond with the residents of Guernsey Island in the aftermath of World War II). Meryl Streep appears in a cameo toward the conclusion but campiness reaches its apotheosis with the arrival of Cher in the role of Sophie's grandmother, her skin clear as a baby's.
Ol Parker directs against expectations since we know him for his film "The Best Exotic Marigold Hotel," about British retirees traveling to India to what they expect to be a remodeled hotel but find that while it is not as advertised, its charm compensates.
Rated PG-13. 114 minutes. © 2018 by Harvey Karten, Member, New York Film Critics Online
Story – B-
Acting – B
Technical – B+
Overall – B