THE THIRD WIFE
Film Movement
Reviewed for Shockya.com & BigAppleReviews.net linked from Rotten Tomatoes by: Harvey Karten
Director: Ash Mayfair
Screenwriter: Ash Mayfair
Cast: Nguyen Phuong Tra My, Tran Nu Yen Khe, Mai Thu Huong, Nguyen Nhu Quynh, Pham Thi Kim Ngan
Screened at: Critics' link, NYC, 4/5/19
Opens: May 15, 2019 at New York's Film Forum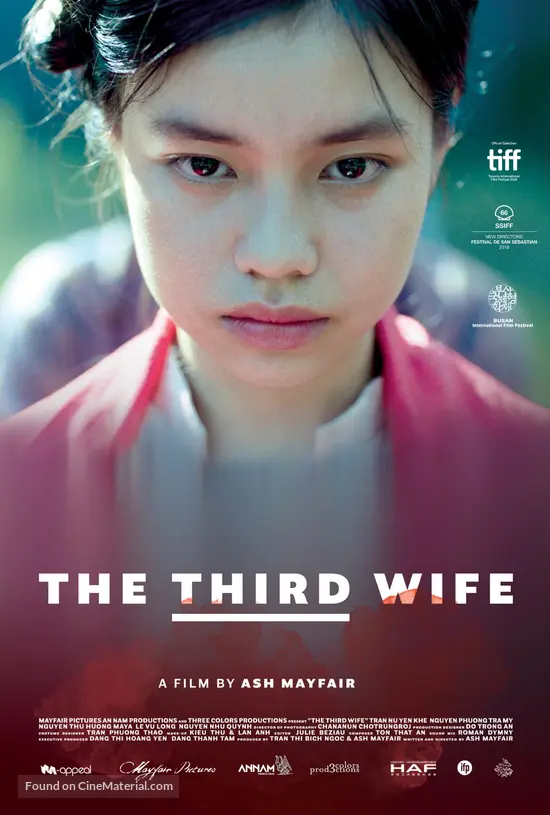 a
Fortune magazine states that in a survey involving one thousand asking Americans what they simply could not do without, 65% said it was their smart phones. In fact 15% would give up sex all week rather than do without their phones for one weekend. The world today is as fast-paced as it ever was, making it difficult to believe how even rich people lived in the 19th century without electricity, radio, TVs, computers, phones, planes and the internet. In Ash Mayfair's freshman debut as director (she had previously helmed shorts such as the eight-minute "Walking the Dead" about a man with a zombie pet), she takes a serious and quite lyrical look at life in a rural Vietnamese village, where a rich landowning family indulge in polygamous marriage. The chosen brides are taken from a youthful age against their will and bonded to older men who would naturally lean toward favoring the youngest of his wives. What's more, it is possible for a younger woman to elevate her status and rise even to become First Mistress if she could give her husband a boy. This is the situation in which May (Nguyen Phuong Tra My), cast by the director at the age of twelve and shown here as a fourteen-year-old, was hitched up to middle-aged Hung (not necessarily a metaphoric name), as performed by Le Vu Long.
Instead of what we modern Americans would suspect, May is greeted warmly by wives two and three,Xuan (Mai Thu Huong May) and Ha (Tran Nu Yen Khe). Though May says barely one word to her husband, she apparently knows what is expected of her. Before her deflowering, she takes down her long, black hair and lies expectantly below her man, complaining later to the two older wives that all she feels is pain. Not to worry, they assured her; you will grow to like it. But May is rather advanced for a fourteen-year-old in a stratified culture, discovering that her heart and other parts belong to Xuan. At first Xuan is flattered and responds, but later, when May is pregnant, the older woman believes that a continuing lesbian relationship would bring down the ire of the gods.
The subplots hardly congeal and are jarring, particularly revolving around son named Son (Nguyen Thanh Tam) who does not likely take to being railroad into a marriage to someone he doesn't know, and Tuyet (Pham Thi Kim Ngan) looks awfully young to be sent off for life to these rural grounds. For her part Lien (Lam Thanh My) goes almost as ballistic as Son, refusing in one scene to eat, contemptuous of her static life under a patriarchy.
From the human side, we see what life was like in a time not so far back and yet seemingly remote to current-day Vietnam with its stock market and its international sales of shoes and other clothing. Writer-director May makes sure that her pace remains placid. We see several lovely shots of the moon, in one case as the dark clouds cover it; of caterpillars and silkworms doing whatever turns them on; of the surrounding mountains that you might well have seen in the country's current tourist brochures. Animal life comes front and center at times: the birth of a calf; the wishing a sad farewell to their aging cow too ill to rise from the ground; a rooster that does not go gentle into that dark night.
"The Third Wife" is strictly for the art-house crowd, the types of people who line up frequently for tickets outside New York's Film Forum. Criticism if any will doubtless revolve around the old-fashioned nature of the form with no flashbacks, limited if any visual effects, and lacking in changes of pace. For the patient moviegoer interested in foreign cultures and the mores of times gone by, Ash Mayfair's film is a potent symbol of what we might expect to come from the regisseur.
The movie was filmed in Vietnam, the English subtitles in splendid bold lettering.
96 minutes. © 2019 by Harvey Karten, Member, New York Film Critics Online
Story – B
Acting – B+
Technical – B
Overall – B