MIDSOMMAR
A24
Reviewed for Shockya.com & BigAppleReviews.net linked from Rotten Tomatoes by: Harvey Karten
Director: Ari Aster
Screenwriter: Ari Aster
Cast: Florench Pugh, Jack Reynor, William Jackson Harper, Vilhelm Blomgren, Archie Madekwe, Ellora Torchia, Will Poulter
Screened at: Tribeca, NYC, 7/1/19
Opens: July 3, 2019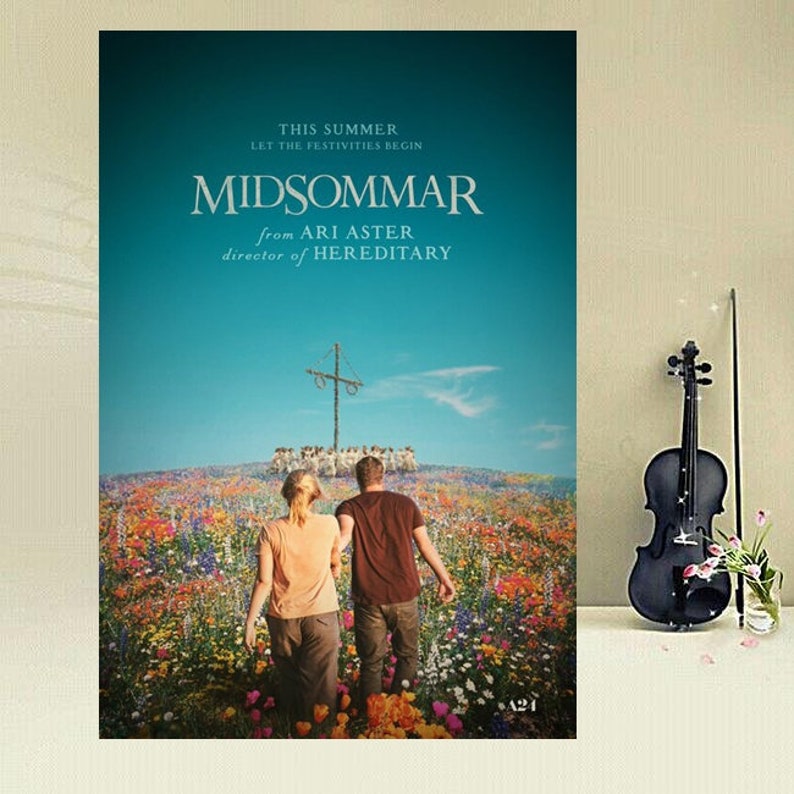 When you go to Europe on vacation, what do you expect to do? Take in the sights? Enjoy fine dining? Fishing and golfing and womanizing? Scuba-diving or mountain climbing? One thing is missing: the people who live there. Don't you want to blend in with the locals, meet and chat with them, get invited to some of their social functions? If you don't have family in France, Germany or Iceland, you are likely to gaze at some of the natives but unlikely to have conversations with them, and that may be the wise thing to do. After all, look what happens to a band of American graduate students who are invited by one of them, a Swedish-American, to travel to a remote rural area to observe some special festivities. When Pelle (Wilhelm Blomgren) suggests that his friends join him on a trip that bypasses Stockholm in favor of watching a nine-days' festival that occurs that year, they go for it especially when Josh (William Jackson Harper) is doing his thesis about midsummer rituals for his Anthropology major.
"Midsommar," which is writer-director Ari Aster's second feature—his "Hereditary" dealing with dark secrets when the family matriarch passes away—finds Dani (Florence Pugh) in circumstances not unlike those of Toni Collette's Annie in that first offering. Dani, who has a neurotic dependency relationship with Christian (Jack Reynor), is urged by his male friends to dump her, but instead, perhaps feeling sorry that Dani has just lost her sister and parents in a catastrophe, Christian makes the mistake that they all make in taking the trip. What they find among a large ensemble standing in for Pelle's cousins and other relatives is an inbred community whose warm welcome of the Americans belies their intentions. Like the folks in Jordan Peele's stunning horror picture "Get Out," finding African-American boyfriends of young family member Rose Armitage embraced by a group of people who go overboard to show that like Joe Biden they don't have a racist bone in their bodies, actually have sinister plans for the guys to whom they are introduced.
The extended (and this must be repeated) inbred family may remind old-timers here in America of Woodstock in mid-August 1969, with its hallucinogenic drugs, its nudity, its camaraderie, its peace-in-our-time atmosphere, one difference being that there, only two people died; one was run over by a tractor and another passed away on a drug overdose. You can't blame the Yanks for thinking that the big bear kept in a small cage is an hallucination, but it has uses for the locals in white folksy costumes to celebrate an event that happens only every ninety-nine years.
Pawel Pogorzelski photographed the macabre party in the Hungarian countryside, taking a few startling close-ups when required, otherwise using a vivid imagination as when turning the Americans' world literally upside down as they go well past the urban Stockholm landscape for the spacious family grounds. Production values are spot-on, and Aster's solidly directed expansive action are big plusses. A sex scene involving a score of naked women cheering on one man's performance in one moment will draw unintentional laughter from the audience, though one might surmise that this particular moment arises from the director's sense of humor. A playful cinematography is marred by a convoluted plot, however, the editing taking a back seat to a chronological treatment of events though the visual effects department nicely projects a drug-fueled distortion of nature. Best of all, Florence Pugh turns in a dazzling performance in the key role, anchoring the show as a woman who opens on a mournful note, overly dependent on her boyfriend Christian, yet ending up having the authority of life or death.
147 minutes. © 2019 by Harvey Karten, Member, New York Film Critics Online
Story – C+
Acting – B+
Technical – A-
Overall – B