SYNONYMS
Kino Lorber
Reviewed for Shockya.com & BigAppleReviews.net linked from Rotten Tomatoes by: Harvey Karten
Director: Nadav Lapid
Screenwriter: Nadav Lapid, Haïm Lapid
Cast: Tom Mercier, Quentin Dolmaire, Louise Chevilotte
Screened at: Critics' link, NYC, 9/5/19
Opens: October 25, 2019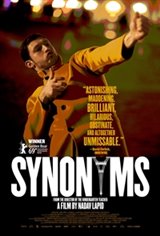 Thomas Wolfe said you Can't Go Home Again, in fact that is the title of a novel published in 1940. The novel tells the story of George Webber, a fledgling author, who writes a book that makes frequent references to his home town of Libya Hill which was actually Asheville, North Carolina. The book is a national success but the residents of the town had been unhappy with what they view as Webber's distorted depiction of them, send the author menacing letters and death threats. Nadav Lapid, a brilliant director whose "The Kindergarten Teacher" tells of a New York teacher who becomes obsessed with a five-year-old's gift for poetry, now takes tackles a film thematically alike Wolfe's novel, about a 20-something who not only can't go home again: he does not want to. You can't blame some critics who, like the writer for "The Jerusalem Post," in effect blames director Lapid for washing Israel's dirty laundry in public in a similar way that Thomas Wolfe disturbed his townspeople.
"Synonyms" is a bold, original, impressive movie that has critics divided though it took top prize at the Berlin Film Festival this year. That's not surprising. The best movies are strong enough to divide audiences, since unlike pics that are febrile, that do not hurt anybody's feelings, controversial ones may have some people hating while picking up other people's praise.
As for the fellow who has no intention of ever going back to his homeland, Yoav (Tom Mercier) left Israel after fulfilling his military duties, traveled to France without a shekel in his pocket, and refuses to speak Hebrew. He pores over grammar books, walking the streets around the Seine mumbling words together with their synonyms, takes a demanding and exciting citizenship class where he is required to sing the second stanza of the Marseilles, and even when visited by his father who is worried that his son is not eating and is living in a shoebox refuses to respond to the older man in Hebrew.
But he is not at all out of luck. In the film's opening he visits a strangely vacant Left Bank apartment, wakes up nude (full frontal nudity: beware), discovers that someone has stolen his backpack with all his clothes and wakes up in the home of Émile (Quentin Dolmarie) and Caroline (Louise Chevillotte). Émile finds Yoav an impressive young man, given that Yoav is filled with stories about his life in Israel, making analogies to the Greek legends about Homer's Hector, represented as the ideal warrior. By contrast Émile responds that his own life is boring, that he has no stories to pay his new guest back. For her part Caroline (Louise Chevillotte), an oboist with the local symphony orchestra, is likewise fascinated by the immigrant, not surprising since he has sworn off Hebrew, knows the complete French national anthem, and is more Gallic than the typical person born in France and knowing no other tribe.
Despite his reverse nationalism, Yoav appears qualified only to be a security guard at the Israeli consulate, where one officer goads him into a fight as though training him for the Israeli Defense Forces. Yoav is slim, yet seems rock hard from his army training and is occasionally interested in starting a fight—particularly with a member of Caroline's orchestra who chastises him for rudeness.
Émile soon sense that Caroline is more interested in Yoav than in him, no considering that Caroline and Yoav fell into each other's arms—Caroline muttering that she "always knew that we would sleep together." Perhaps the most emotional scene occurs when Yoav, determined to flee the militaristic country of his birth, becomes enrapt hearing a classmate in his French class sing the first stanza of the Marseilles, following up with the next which speaks of the "purity of the French blood" and the needs to spill the blood of the enemy.
All this makes "Synonyms" as arresting a film that you'll see this year, perhaps later competing against great movies like the South Korean "Parasite" for Best Foreign Picture. Note especially the great performance coming from Tom Mercier in his early career, a likely candidate for those organizations like NY Film Critics Online which give awards for Best Actor.
123 minutes. © 2019 by Harvey Karten, Member, New York Film Critics Online
Story – A-
Acting – A
Technical – B
Overall – A-