THE NIGHT CLERK
Saban Films
Reviewed for Shockya.com & BigAppleReviews.net linked from Rotten Tomatoes by: Harvey Karten
Director: Michael Cristofer
Screenwriter: Michael Cristofer
Cast: Ana de Armas, Helen Hunt, Tye Sheridan, John Leguizamo, Johnathan Schaech, Jacque Gray
Screened at: Critics' link, NYC, 1/31/20
Opens: February 21, 2020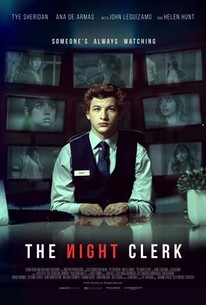 You might expect Michael Cristofer's "The Night Clerk" to be in tune with his directing interests, given that his previous film, "Original Sin," unravels a scheme by a woman and her lover wherein the woman is to marry a rich man and run off with his money. The plot fails when Angelina Jolie's character, Julia Russell, falls in love with the guy she marries. (We won't talk about the reviews.) This time Cristofer is at the helm of a crime story that focuses on Bart Bromley (Tye Sheridan), a 23-year-old fellow with Asperger's syndrome, who runs the night shift at a small hotel. Because of his impairment, he is unable to make eye contact with others, and speaks formally with too much detail, which is a symptom of high intelligence. Nor can he pick up on social cues.
Bart Bromely, the title character played by Tye Sheridan, is afflicted with this neurobiological condition. Nevertheless he has a job as a hotel night clerk because, the manager says, the company has a policy of hiring people with impairments. In order to learn how to speak informally, Bart, who is a wiz at camera technology, sets up hidden cameras in the rooms not because he is a perv voyeur but because he uses the guests to instruct him in how to speak. This provides some of the movie's comedy, as when the beautiful Andrea (Ana de Armas) is checking in, getting an earful from robotic Bart on the amenities the hotel provides.
"The Night Clerk" moves into crime territory when Bart's camera captures a struggle between a man, Nick (Johnathon Schaech) and a woman, Karen (Jacque Gray), an argument that results in the woman's murder—all picked up by Bart. He interferes with the body, gets blood on himself, and is considered by police detective Johnny Espada (John Leguizamo) to be the prime suspect. At this point the movie breaks away from a crime genre to explore a relationship showing Andrea, a new guest who is charmed by Bart's awkwardness, particularly when Bart discusses like a walking Wikipedia how love is an addiction, like cocaine, releasing a flood of endorphins, and how heartbreak occurs when the love (like cocaine) is withdrawn.
Helen Hunt appears from time to time as Ethan Bromley, Bart's mother, who tries to defend her "fragile" boy from the detective's interrogation. Here and there, Cristofer's script establishes comic points, as when Bart, who like Jim Carrey's Fletcher Reede in "Liar Liar," not only cannot lie but insists on proactively telling people truths they don't want to hear. A used car salesman (D.L. Walker), hears from Bart not only that the dealer is obese but that obesity can cause cancer, diabetes, heart attacks and strokes. Nor is a clothing salesman (Walter Platz) off the hook, informed by Bart that he would never wear slacks recommended by the dealer because the dealer is "old."
Activities surrounding the murder of a blond woman in a hotel room pop up now and then during Espada's interrogation, but this is primarily a film about a tender but unconsummated affection between Andrea and Bart, though there is some reason to believe that Andrea is using the night clerk, setting him up along with her boyfriend Nick, to take the blame for the killing.
Tye Sheridan, whose performance might be compared to that of Dustin Hoffman's Raymond Babbitt in "Rain Man" and Tom Hanks' title performance in "Forrest Gump," is solid and delivers visual understanding of a condition that affects one person in every five hundred. Sheridan is perhaps best known as Ellis in Jeff Nichols''Mud," about two boys who help a fugitive to avoid capture by vigilantes. His job this time is so good that you in your theater seat might feel like getting up, frustrated by the projection of his autism, to shout, "What's the big deal? Just look him in the eye and stop talking!"
90 minutes. © 2020 by Harvey Karten, Member, New York Film Critics Online
Story – B
Acting – B+
Technical – B
Overall – B