BLOOD ON HER NAME
Vertical Entertainment
Reviewed for Shockya.com & BigAppleReviews.net linked from Rotten Tomatoes by: Harvey Karten
Director: Matthew Pope
Screenwriter: Don M. Thompson, Matthew Pope
Cast: Bethany Anne Lind, Will Patton, Jimmy Gonzales, Jared Ivers, Jack Andrews
Screened at: Critics' link, NYC, 1/29/20
Opens: February 28, 2020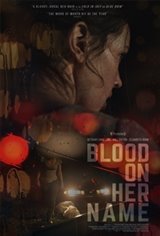 When you see Leigh Tiller (Bethany Anne Lind) with blood on her hands and cuts on her face, looking over a dead body surrounding by a puddle of blood, you may think for a second that the title is "Blood on Her Hands." However among the wise choices made by director Matthew Pope in his debut feature (one previous 15-minutes short, "The Echo Construct," is about a technological breakthrough to help solve crimes), is to evoke the view that Leigh is doomed perhaps from the time she was born.
Pope's principal character who is in virtually every scene and delivers a compelling performance, would be better served by a good screenplay. As the situation stands now, the genre movie, a slow burn for the most part until an explosive conclusion, would not in my opinion be well served on the big screen, more likely the type of picture that should do better on cable TV. Pope shows rural America—perhaps the American South given some dialogue about iced tea—as a pit of depravity, the type of place which in this case is home for a group of deplorables.
Save for two guys, Leigh's helper Rey (Jimmy Gonzales) and a parole officer (Tony Vaughn), the characters are all compromised. Leigh's husband is in jail. Her father, Richard Tiller (Will Patton) is a corrupt sheriff who is estranged from his daughter. Her son Ryan Tiller (Jared Ivers) is on parole, and the dead body, about whom we know little, though we find out that he had a girlfriend Dani Wilson (Elisabeth Röhm), winds up in his unhappy state for reasons not made clear.
Notwithstanding the misery of Leigh's life, she has the decency not to dump the body into the lake, but instead return it to the ground close to the scene—which could prove to be her downfall. In flashbacks, we see Leigh with a drug habit, we know that because of her failing business she could not made court-ordered restitution to the family of a victim beaten and blinded in one eye by Leigh's son. In the depths of her desperations she offers to take her son on a two-weeks' vacation (he wants to do white water rafting), an impossible dream for someone with blood on her name.
Are these the kinds of people who vote for Trump? Do they vote at all? Have they ever heard of Trump? If you're a bit city dweller, you'll get a picture of how many millions of Americans live, people who are employed like Leigh but who are unable to make ends meet—never mind the full employment of which the Republicans are proud.
Bethany Anne Lind has great promise, with an acting résumé full of TV movies, now cast in a film that should have been on Cable TV.
83 minutes. © 2020 by Harvey Karten, Member, New York Film Critics Online
Story – C
Acting – B
Technical – C+
Overall – C+