CYRANO
United Artists
Reviewed for Shockya.com & BigAppleReviews.net, linked from Rotten Tomatoes by Harvey Karten
Director: Joe Wright
Screenwriter: Erica Schmidt based on the musical by Erica Schmidt and the play by Edmond Rostand
Cast: Peter Dinklage, Haley Bennett, Kelvin Harrison Jr., Ben Mendelsohn, Bashir Salahuddin
Screened at: Critics' link, NYC, 12/5/21
Opens: December 17, 2021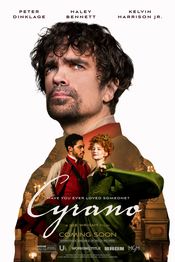 What the world needs now, albeit not as much as that fourth shot of Pfizer, is a crowd-pleasing musical, preferably with songs that do not imitate the wonderful but by now overdone music of Andrew Lloyd Webber. "Cyrano" fills the bill, a reimaging with music of Edmond Rostand's 1897 play which takes place in France and is filmed in Sicily by Seamus McGarvey. Its director, Joe Wright, can stage classics, known by many for his "Pride and Prejudice" (2005) and "Anna Karenina (2012). The big schnozz of the title character is out, with Peter Dinklage's four-and-a-half feet of height substituting for a man who believes he has no chance with the city's greatest beauty. Erica Schmidt, who has been married to Dinklage for the past sixteen years, wrote the music and screenplay in a musical first presented at the Goodspeed Opera House in East Haddam, Connecticut.
If you're about my age and a fan of great musicals, you might have seen Jose Ferrer's Oscar-winning performance in 1950. Younger people may have caught Gerard Depardieu in 1990, and who would want to skip a look at Steve Martin who comes along in 1987?
Complete with swordfights—the kind that Shakespeare's groundlings applauded in the Bard's day even if they could not understand the words—the current version adds songs, nothing memorable the day after, and a story about a handsome but tongue-tied man, Christian (Kelvin Harrison Jr.) in love with Roxanne (Haley Bennett), but unable to win her because of her need for passionate lover letters. Enter Cyrano (Peter Dinklage), who cannot even think of expressing his love for the beautiful woman with a lovely singing voice lest he be humiliated by a certain rejection. Instead, he forges love letters, gets them signed by Christian, evoking returns from the romantic Roxanne who had fallen in love at first sight with Christian during a theater event that serves as the highlight of the musical. One date with Christian, however, could have ended the anticipated affair given the man's lack of facility with the French language.
Rostand knew how to dispense ultimately with Christian by sending him off to the front in one of France's chronic wars, but we use him and his fellow soldiers to deliver songs based on letters sent home before the big battle. All the wit, passion, and the love for language comes through with honors in a musical that should make more of an impact on the modern audience than might the original words-only play. Dinklage is more than credible as a master swordsman and poet, a Renaissance man whose character lived during that artistic period in Europe. We can predict the finale long before we see it. After all what audience would be happy to see the great Cyrano with a broken heart that could last for a lifetime?
124 minutes. © 2021 by Harvey Karten, Member, New York Film Critics Online
Story – A
Acting – B+
Technical – B+
Overall – B+