SHIVA BABY
Utopia
Reviewed for Shockya.com & BigAppleReviews.net linked from Rotten Tomatoes by: Harvey Karten
Director: Emma Seligman
Writer: Emma Seligman
Cast: Rachel Sennott, Molly Gordon, Diana Agron, Danny Deferrari, Polly Draper, Fred Melamed
Screened at: Critics' link, NYC, 2/19/21
Opens: April 2, 2021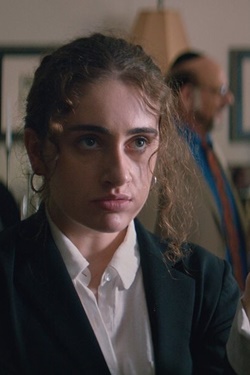 If you want to know what it's like to sit shiva, think of an Irish wake minus the drinking and multiply the eating. Different religions and ethnic groups have distinct customs for grieving the dead, but given the importance of the family in the Jewish tradition, the shiva can be a festive occasion marked with bagels and lox and maybe a little Manischewitz. The first day of the commemoration brings together folks from an extended family, who engage in conversation, looking at pictures of grandchildren, some hoping to find an excuse to leave early without insulting the hosts.
The title character, who is uncredited, is an eighteen-months'-old infant whose idea of conversation is crying his heart out and, with some luck, catching up on sleep. Emma Seligman, who wrote and directs her freshman offering, is in Woody Allen territory, putting together a group of people of all different ages who, as stereotypes have it, wonder, "Do you have a boyfriend yet?" "You're skin and bones; you're not eating!" "What are you going to do after you graduate?" Aside from the usual catching-up by people who may not have been together for years, Seligman focuses on Danielle (Rachel Sennott), seeing all activity from her point of view, as she tries to satisfy everyone's nosy queries about her plans.
Danielle, or Dani as her mother Debbie (Polly Draper) calls her, is a bisexual college senior whose mom is wise to some of her sexual inclinations. "No funny business with Maya" (Molly Gordon), she warns, realizing that her daughter and Maya had been an item in the recent past whose embers may be kindled after their meeting at the shiva. Though Maya is about to enter law school, Danielle appears without insight into what she might be doing, which may have something to do with her less-than-jobs-worthy major of gender studies. (Think of Bill Murray's character, Phil, in "Groundhog Day," who upon learning that a woman majored in 19th century French literature responds, "What a waste of time!")
Maybe Danielle's gender studies curriculum considers women who sleep around for money to be perfectly legitimate sex workers, in fact that is what Danielle does for cash. She meets now and then in Max's (Danny Deferrari) bachelor apartment, faking an orgasm and gaining an expensive bracelet and some cash. And wouldn't you know that Max would show up at the shiva with whom guests would call a shicksa wife, Kim (Dianna Agron). One guest suggests "I hear her father is Jewish" to which another responds "That doesn't count."
Rachel Sennott communicates her anxiety in this claustrophic setting to such an extent that we in the audience are bound to recall events in our own lives that have made us blush, cry, wish-we-had-done-something-differently, all the while laughing nervously at this recognition. Though "Shiva Baby" recalls a tradition that is central in Judaism, it aims for universality as do many of Woody Allen's movies. We may come away figuring things will work out for Danielle—who is on the way up, just like the film's writer-director whose next satirical contribution we eagerly await.
77 minutes. © 2021 by Harvey Karten, Member, New York Film Critics Online
Story – B
Acting – B+
Technical – B
Overall – B