63 UP
BritBox
Reviewed for Shockya.com & BigAppleReviews.net linked from Rotten Tomatoes by: Harvey Karten
Director: Michael AptedTony, Lynn, Nick, Neil, Peter
Cast: Charles Furneaux, Lynn Johnson, Nicholas Hitchon, Tony Walker, Neil Hughes, Bruce Balden, Paul Kligerman, Suzanne Dewey, Symon Basterfield, John Brisby, Andrew Brackfield, Susan Sullivan
Screened at: Critics' link, NYC, 11/22/19
Opens: November 27, 2019 at New York's Film Forum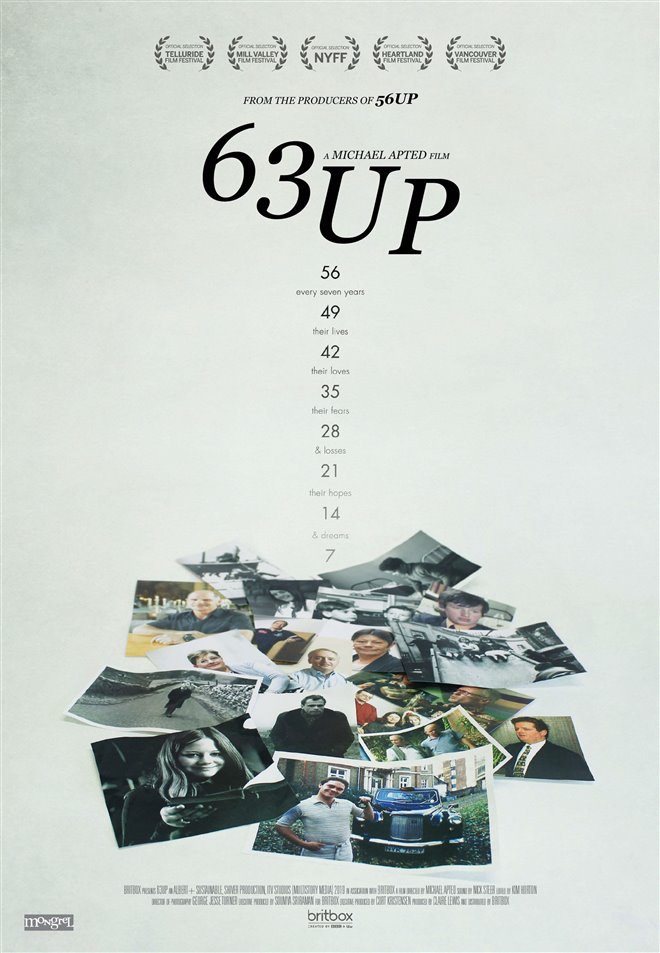 Breathes there a kid who has never been asked, "What do you want to be when you grow up?" In my day the two most popular answers were fireman and policeman. While politically correct youngsters nowadays would more likely say firefighter or police officer, the most popular ambition now is to be an astronaut. And don't think that children would automatically adjust their thinking when they turn twenty-one and are ready to make a living. As Michael Apted repeatedly notes in his monumental, epic spot of moviemaking, "Show me the child and I'll show you the man." Apted give us a documentary unique in its aspirations, having begun interviewing fellow Brits when they were seven and continuing the "Seven Up" tradition now. With archival films that he uses to show us a select group of people at age 63, flashing back to 7 or 14 or 21 or 28 and beyond, he allows us to come to the conclusion that people generally turn out at least somewhat as you might expect them to be when they were 7.
Yes, it's amazing that every seven years he has been able to go find and go back to the people he interviewed at seven. Most people might wonder whether he would even locate them over such a long life span, whether they would agree to continue with him every seven years, and mirabile dictum, there was only one death, one serious illness, and a small group who opted out.
The kids are all wonderful. They sound more articulate than the American youngsters with whom I've been in contact, and yet they have not all been chosen for their intellectual gifts. Only Lynn had passed away,and that from a freak accident. She was hit while playing on a park swing with her grandchildren. She was beloved in her career as a school librarian who because of government cutbacks lost her job more than once, and not ironically was an advocate of stronger government spending on social services.
The saddest story is that of Nick who had just been diagnosed at 63 with throat cancer, a gifted professor who appears shaken given that the diagnosis was given just days before the filming. Some were married more than once, and given the merit of film, we are able to see their spouses now, seven years back, then seven years back again and again. Not surprisingly they look older now having lost the gift of youth which seems to confer the adjective "adorable" on the lot of them.
When asked their opinions of Brexit, all appear to be opposed, one suggesting that 52% of Britons voted to leave the EU not because they really wanted to separate from Europe but because they were getting revenge on the whole political apparatus. In that our cousins across the Atlantic are akin to us here in the States.
Though a large number of the fourteen subjects were in occupations to envy—one a solicitor, another a professor, which might reinforce the idea that Britain is a class society that might predict what people would be in glamorous professions while others may drive a cab (and be annoyed by the competition of Uber), at least one suggests that things are different now. Now, an employer would look at the résumés and backgrounds and hire based on ability. If only that were true.
Neil is the only person who might be called a loser, and then only during certain periods of his life. He had been homeless and he had roamed the country, now and then. But even he gets elected to local political office, buys a home in France, and serves as a lay minister in churches.
Though Michael Apted gets full directing credit for the entire 55 years, a number of photographers had been on hand to capture the words, emotions and philosophies of the selected candidates. Will there be a "70 Up?" Cross your fingers. The current film is a lengthy 139 minutes but given the work that the crew and actors have put in, they certainly deserve your attention the full time. Apted himself remains in the background the entire time, posting questions in an empathetic style that is probably what is responsible for the continued appearances of his cast.
139 minutes. © 2019 by Harvey Karten, Member, New York Film Critics Online
Story – A-
Acting – B+
Technical – A-
Overall – B+